Historical Map Prints and Pictures for Download. Heritage Map Gifts. Europe and the World in the 1880s - 1930s
The 1900 Collection is an old heritage cartography resource featuring digitally re-mastered replicas of historical vintage maps of Europe and World in between late 1890s and early 1900s, before the Great War (1914-1918) and up to late 1930s. Collection includes old travel maps, city and town plans, country maps, mountain chain and town panoramas and other time-honored geographic images for scholars, family historians, map enthusiasts and tourists using mobile navigation. Find and order here quality vintage map poster prints and canvases as gifts to your relatives and friends or for home and office interior décor. Buy and download high resolution royalty-free old map stock pictures for professional use by graphic and interior designers, film people and publishers. Download navigable GPS-enabled georeferenced historic maps for iOs and Android smartphones and tablets at low bargain prices. To find the perfect item use the search box, map catalogue, historical interactive map or alphabetic name catalogue of great cartographers of the past. All digital deliveries are instant. Prints are done on archival matte paper or classic canvas using the highest quality colors. We ship internationally.
TOP 12 COUNTRY COLLECTIONS (BY NUMBER OF MAPS LISTED)
Former Country Maps: The Russian Empire, last decades (before 1917)
The islands in the north of the country all belonged to the empire except for Kara Sea entitled to Siberia. In the east it wielded authority to its Asiatic territories including Siberia and Kyrgyz steppes which were both separated by the magnificent Ural Mountains, Ural River and the Caspian Sea. As seen on the maps, towards the south it had Black Sea and Caucasus separated by the Manych depression which once connected the Sea of Azov with Caspian. The western boundary was a conventional one running the peninsula of Kola to the Gulf of Bothnia
[more…]
Map on the spot
Germany. Rhine Province and Nassau. General map, 1913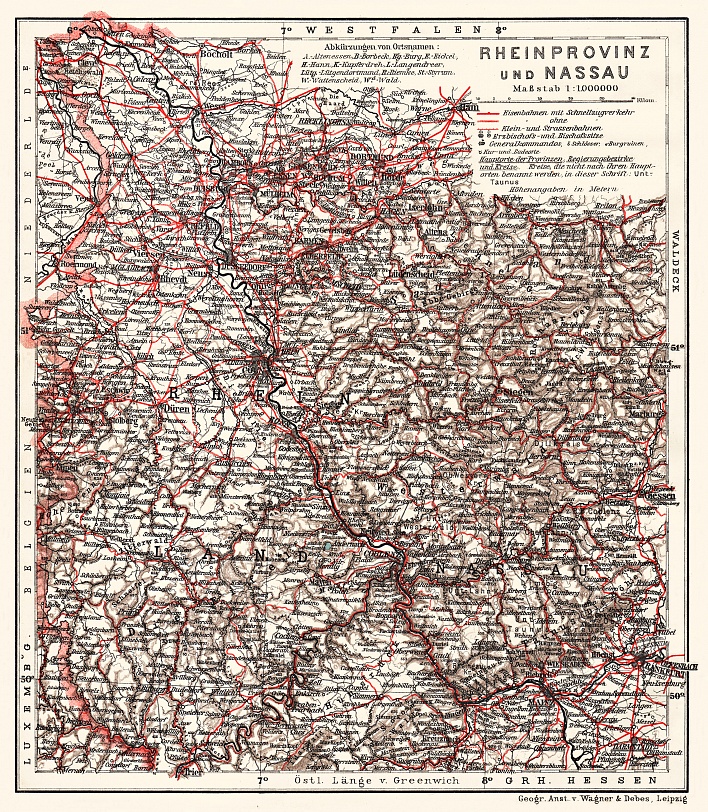 Buy Image (300 dpi, 2682 x 3072 px)
(8.94 x 10.24 inch, 228 x 261 mm),
Size on disk 10.28 Mb
€ 16.89
Buy Print: Paper. 12 x 16 inch, 300 x 400 mm
Scaled up to fit to page (123%, 11.02x12.64 inch, 280x321 mm). Proportions will be constrained
€ 22.99
Buy Print: Canvas 1.8 cm. 12 x 16 inch, 300 x 400 mm
Scaled up to fit to page (123%, 11.02x12.64 inch, 280x321 mm). Proportions will be constrained
€ 34.99
Buy Print: Canvas 3.8 cm. 12 x 16 inch, 300 x 400 mm
Scaled up to fit to page (123%, 11.02x12.64 inch, 280x321 mm). Proportions will be constrained
€ 47.99
Get more print size options for this map
Vintage Maps from the Belle Époque: the Digital Revival
There are many reasons to have historical maps at one's heart. Generally, various strengths of loving maps are normal features for almost any human being ample to at least basically read their language. Modern digital age dramatically changed maps and mapping as a science and applied art, but what refers to old patterns remains unbroken and unbreakable.
Whether you are looking for a great holiday gift to your Mom, Dad or a friend, unique business present, or just willing to obtain a piece of history for yourself, an old map is a great solution. Not sure where to find vintage maps, consider them being to rare or too expensive? That is all definitely right if you think of obtaining originals. Moreover, when you even finally discover the desired map and get it in your hands, you may become completely at a loss what to do with its almost unavoidable time damages… But thanks to achievements of the digital era you are have a great chance to indulge yourself with a lovely historical map poster or a fine vintage map canvas done based on a professionally restored old map replica, like those offered by this site, the 1900 Map Collection.
Vintage map reproduction poster or a canvas is a historic art print, ideal for a fan, great as a nostalgic gift and suitable for instant framing, mounting or direct display on a wall as a home or office interior décor. Modern graphic art processing technologies allow printing them on demand at different sizes, adjusting to customer requirements, but always preserving full aspect ratio on high quality paper in premium printing labs. Anything sold here at www.discusmedia.com have been primarily professionally restored and re-mastered with all necessary consideration, care and prudence for its geometry and physical integrity. We do not sell map reproductions with printed rips, blots and stains. Most tears, folding traces and scratches that have occurred to the originals over the decades have been removed by the digital restoration.
Here at the 1900 Map Collection, a large professional map site, you may choose from thousands of vintage maps and panoramas from around 1900, covering places around Europe and the World that may be converted to art pictures, showing most popular tourist destinations of that age, which is often referred to as "the Belle Époque". Some of our vintage cartography goes deeper in age and mirrors even 1880-90s; other old maps discover cities and places of 1920s and later, up to the WWII period. From the later maps we had carefully selected those, which being reproduced in such form won't infringe anybody's copyrights.
As the 1900 Collection specializes on maps, you exactly get here biggest selection of antique reprinted cartographic images at much larger scale than those, which may be available from most poster websites and stores. We do not stock ready map posters, because we understand, that our customers would rather appreciate large variety of historical maps, available as maps-on-demand (MoD) than offering just few of those at "bookstore" prices, suggested by someone as most popular. Antique old maps have never been considered cheap items, and true map lovers have real gust of and pay tribute to wider coverage and selection. In fact, full size map reproduction prices at the 1900 Map Collection are comparatively lower or stuck up to prices of originals of that age, adding that they have been preliminarily thoroughly restored and made instantly available. Explore the collection, discover and order the perfect map reproduction print at www.discusmedia.com. Choose from old continent maps, historical city maps and town plans, antique maps, mountain chain panorama engravings, and more.
So, the 1900 Collection is really the right place to search for vintage historical map posters for customized sale, featuring countries and places of around 1900, choosing your favorite old map to serve as a nostalgic picture or piece or a framed art from easy-to-surf "national" or "local" sections. But that is not all at all: you can now use historic map printables in your home decorating, office or studio interior design! Here at the 1900 Map Collection you may find a perfect map image to illustrate your book, either fiction or non-fiction, get a perfect plot for a vintage-style advertising poster especially if you focus on the period around 1900, Word War I and between the two World Wars (1920s and 1930s). Any of these royalty-free high resolution map images displaying Europe, America, World Regions, specific country or dependency, cities and towns that can be downloaded to your computer for illustrations and design may serve you surprisingly more effectively than any ideate clip art, which you might have been surfing for before. Whenever you are struggling to find images for wallpaper, interior design or any kind of fine topping to complete your project, this great map image library could be the solution.
After all, historical maps may not only serve as memorabilia, data source for scholars or pieces of unique art. They may be quite practical, too. Most maps of the 1900 Collection have been drawn at different cartographic projections of the recent past, which are quite similar to those used nowadays. This unique feature along with introducing new technologies allowed the great possibility offering you to buy and download georeferenced old maps for GPS-enabled mobile navigation at iOs and Android-driven devices. Download an old map of European metropolis to your tablet or smartphone to navigate, and you won't find there too many modern features. But it will allow you to compare right on the spot street geometry of today and before, locate disappeared landmarks, find old tramway lines and missing railway stations and many other items recovering exactly the elusive charming image of what is called now the Belle Époque.
So, project yourself from the comfort of your home to your place of past time, or another time and place, with these historical maps. Order online a print reproduction of a selected vintage map to make a beautiful gift. Find a perfect old map image and download it royalty-free in high resolution for your business or interior decor. At least, but not at last buy and obtain an antique map GPS-enabled and navigable to your smartphone or tablet to surf a modern place as if nothing had changed there during the past century – no replanning, no war destructions… It is of no doubt impossible to seize and stop the time flow, impossible to get back in time, but use of modern technologies applied to what managed to remain preserved through the century with two World wars enables anyone keeping at hands or a computer memory restored pictures of original old maps as true pieces and witnesses of this past live and intact