Historical Map Prints and Pictures for Download. Heritage Map Gifts. Europe and the World in the 1880s - 1930s
The 1900 Collection is an old heritage cartography resource featuring digitally re-mastered replicas of historical vintage maps of Europe and World in between late 1890s and early 1900s, before the Great War (1914-1918) and up to late 1930s. Collection includes old travel maps, city and town plans, country maps, mountain chain and town panoramas and other time-honored geographic images for scholars, family historians, map enthusiasts and tourists using mobile navigation. Find and order here quality vintage map poster prints and canvases as gifts to your relatives and friends or for home and office interior décor. Buy and download high resolution royalty-free old map stock pictures for professional use by graphic and interior designers, film people and publishers. Download navigable GPS-enabled georeferenced historic maps for iOs and Android smartphones and tablets at low bargain prices. To find the perfect item use the search box, map catalogue, historical interactive map or alphabetic name catalogue of great cartographers of the past. All digital deliveries are instant. Prints are done on archival matte paper or classic canvas using the highest quality colors. We ship internationally.
TOP 12 COUNTRY COLLECTIONS (BY NUMBER OF MAPS LISTED)
Former Country Maps: The Ottoman Empire during its last decades (before 1922)
The Ottoman Empire was a powerful state especially under the rule of Suleiman (the Magnificient) in the 16th and 17th centuries. The multinational and multilingual empire with Constantinople as its capital controlled much of southeast Europe, Caucasus, North and horn of Africa and most of Western Asia. At the zenith of its power the Ottoman Empire included the areas of Turkey, Bulgaria, Egypt, Greece, Hungary, Romania, Macedonia, Jordon, Lebanon, Syria, Israel and parts of North Africa and Arabian Peninsula which the region's map highlight.
[more…]
Map on the spot
Dyrehave and environs map (Jægersborg Dyrehave in Copenhagen), 1911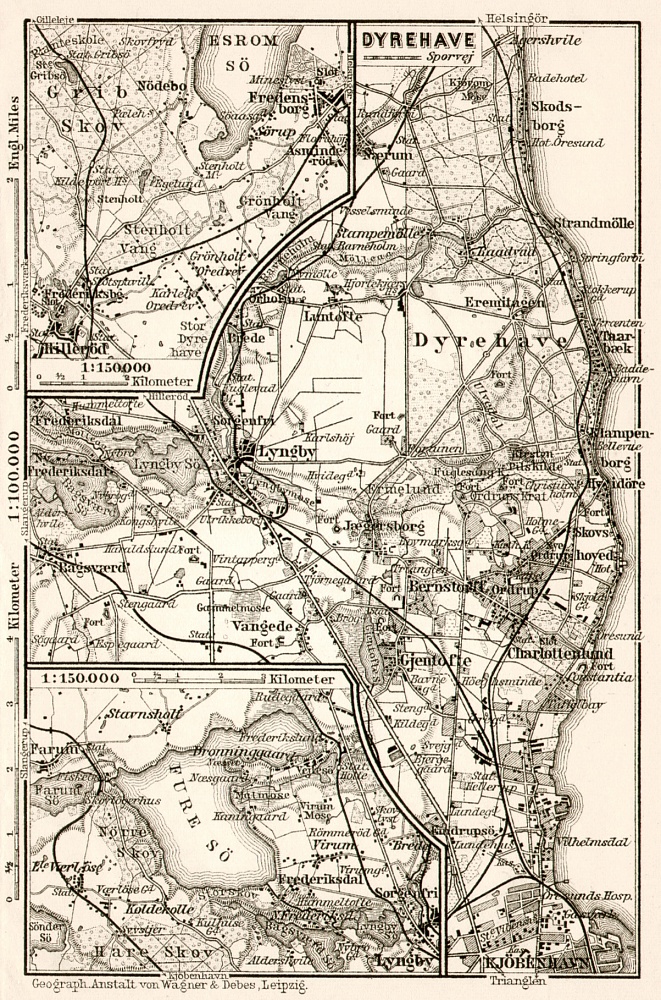 Buy Image (300 dpi, 1203 x 1818 px)
(4.01 x 6.06 inch, 102 x 154 mm),
Size on disk 1.06 Mb
€ 16.89
Buy Print: Paper. 8 x 12 inch, 200 x 300 mm
Scaled up to fit to page (176%, 7.09x10.71 inch, 180x272 mm). Proportions will be constrained
€ 13.69
Buy Print: Canvas 1.8 cm. 8 x 12 inch, 200 x 300 mm
Scaled up to fit to page (176%, 7.09x10.71 inch, 180x272 mm). Proportions will be constrained
€ 24.99
Buy Print: Canvas 3.8 cm. 8 x 12 inch, 200 x 300 mm
Scaled up to fit to page (176%, 7.09x10.71 inch, 180x272 mm). Proportions will be constrained
€ 34.99
Get more print size options for this map